Game Description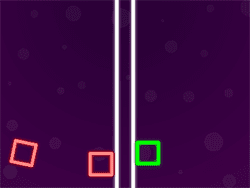 Two Neon Boxes is a captivating puzzle game that puts your logical thinking and problem-solving skills to the test. Developed by Qky Games, this game features minimalist graphics and challenging gameplay that will keep you engaged for hours. With its simple yet addictive concept, Two Neon Boxes is a must-try for puzzle enthusiasts looking for a mental workout.
Game Controls
Mastering the controls in Two Neon Boxes is straightforward and intuitive:
Mouse Click: To interact with the game elements, simply click on the screen to make selections and trigger actions.
How to Play Two Neon Boxes?
Objective
The objective of Two Neon Boxes is to guide two neon-colored boxes to their respective destinations. The boxes move simultaneously, and you must use your problem-solving skills to overcome obstacles and navigate them to the correct positions.
Steps to Play
Start a Level: Begin by selecting a level from the game's menu. The levels increase in complexity as you progress.
Observe the Layout: Take a moment to study the level's layout, including the starting positions of the neon boxes and the locations they need to reach.
Plan Your Moves: Strategically click on various elements in the level to trigger actions. These actions can include opening gates, moving barriers, or changing the direction of the neon boxes.
Guide the Boxes: Your goal is to guide both neon boxes to their designated spots simultaneously. Plan your moves carefully to avoid obstacles and ensure a successful outcome.
Advance to the Next Level: If you successfully guide both boxes to their destinations, you'll advance to the next level with increasingly challenging puzzles.
Tips and Tricks
Think Ahead: Anticipate the consequences of your actions. Plan several moves ahead to ensure the neon boxes don't get stuck.
Use Logic: The game is all about logical thinking. Approach each level with a logical mindset, and you'll find solutions more easily.
Experiment: Don't be afraid to experiment with different actions and sequences. Sometimes, trial and error can lead to breakthroughs.
Game Developer
Two Neon Boxes was developed by Qky Games, a game development studio known for creating engaging and challenging puzzle games. They specialize in producing games that test players' problem-solving abilities and offer addictive gameplay.
Game Platforms
Two Neon Boxes is primarily a browser-based game and is not available as a standalone mobile app on iOS or Android platforms. You can enjoy this game by playing it directly in your web browser on various gaming websites. Its accessibility through web browsers makes it compatible with a wide range of devices, including iOS and Android smartphones and tablets, without the need for specific app installations.
How to Play Unblocked
Playing Two Neon Boxes unblocked is easy, as it is a browser-based game. You can enjoy it on many gaming websites without restrictions. Simply search for "Two Neon Boxes unblocked" in your preferred search engine, and you'll find websites hosting the game where you can play without any obstacles.
Conclusion
Two Neon Boxes offers a delightful and challenging puzzle experience that will put your logical thinking skills to the test. With its minimalist design and progressively difficult levels, it's a game that's both relaxing and mentally stimulating. So, dive into the world of neon boxes, plan your moves wisely, and conquer each level of this brain-teasing puzzle adventure.
Two Neon Boxes is a brain-teasing puzzle game that offers a challenging and enjoyable experience for players seeking to exercise their logical thinking and problem-solving skills. With its minimalist design and progressively complex levels, it provides a satisfying mental workout.
As you guide the neon boxes through intricate puzzles, you'll find yourself immersed in a world of strategic thinking and creative problem-solving. Developed by Qky Games, it showcases their expertise in crafting engaging and thought-provoking puzzle games.