Game Description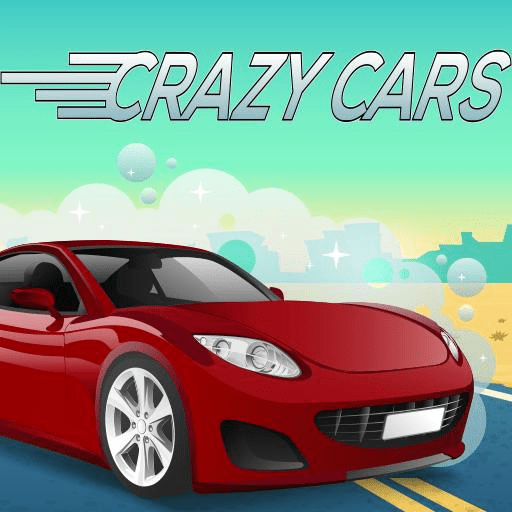 Crazy Cars is an exhilarating racing game that promises high-speed thrills and intense competition. Developed by Titus Interactive, this classic title immerses players in a world of fast cars and challenging tracks. With its vibrant graphics and addictive gameplay, Crazy Cars is a must-play for racing enthusiasts seeking a dose of nostalgia.
Game Controls
Mastering the controls in Crazy Cars is essential to victory:
Keyboard (PC):

Arrow Keys: Use the arrow keys to steer your car.
Spacebar: Activate the turbo boost for a burst of speed.
Enter/Return: Pause the game or navigate menus.
How to Play Crazy Cars?
Objective
In Crazy Cars, your goal is to race against computer-controlled opponents across various tracks and claim victory. Avoid obstacles, use power-ups, and employ skillful driving to outpace your rivals.
Steps to Play
Select a Car: Start by choosing a car from the available options. Each car has its unique characteristics in terms of speed and handling.
Choose a Track: Pick a track to race on. Crazy Cars features a variety of exciting and challenging courses.
Race to Win: Use the arrow keys to steer your car through the twists and turns of the track. Avoid obstacles, such as other cars and barriers.
Utilize Power-Ups: Collect power-ups scattered throughout the track to gain advantages. These can include speed boosts and temporary invincibility.
Compete Aggressively: Race aggressively to outpace your opponents. Use the turbo boost (activated with the spacebar) strategically to gain an edge.
Avoid Crashes: Colliding with obstacles or other cars can slow you down. Try to maintain a clean race to secure victory.
Finish First: Your objective is to finish the race in first place. Cross the finish line ahead of your rivals to win the race.
Tips and Tricks
Learn the Tracks: Familiarize yourself with the tracks to anticipate curves and obstacles, giving you a competitive advantage.
Master the Turbo Boost: Timing is crucial when using the turbo boost. Use it on straightaways or to overtake opponents.
Collect Power-Ups: Don't miss power-ups. They can turn the tide of a race in your favor.
Game Developer
Crazy Cars was developed by Titus Interactive, a game development company known for creating a range of video games across different genres. Their portfolio includes both classic and modern titles.
Game Platforms
Crazy Cars was originally released for computer platforms like MS-DOS and Amiga. However, it may not be directly available as a standalone mobile app on iOS and Android platforms. Players looking to enjoy this classic racing game on modern devices can explore emulated versions and adaptations available on retro gaming platforms and online gaming websites. Therefore, the game is more accessible on computer platforms and may require additional steps to play on iOS and Android.
How to Play Unblocked
Playing Crazy Cars unblocked is possible through various online gaming websites and retro gaming platforms. Simply search for "Crazy Cars unblocked" in your preferred search engine, and you should find websites that host the game for unrestricted play.
Conclusion
Crazy Cars offers a thrilling racing experience that combines speed, competition, and skillful driving. Developed by Titus Interactive, it remains a classic in the world of racing games.
So, rev up your engine, choose your car, and hit the track in Crazy Cars. Race to the finish line, avoid obstacles, and use power-ups strategically to secure victory in this nostalgic racing adventure.
Crazy Cars takes players on an exhilarating journey into the world of high-speed racing. Developed by Titus Interactive, this classic title delivers heart-pounding action, challenging tracks, and fierce competition. Whether you're a fan of nostalgic racing games or seeking a dose of adrenaline, Crazy Cars has something to offer.
With precise controls and a variety of cars and tracks to choose from, the game provides an immersive racing experience. Utilizing power-ups strategically and mastering the turbo boost are key to claiming victory.
While originally available on computer platforms like MS-DOS and Amiga, players can still enjoy Crazy Cars through emulated versions and online gaming websites. It's a testament to the enduring appeal of this classic racing game.