Game Description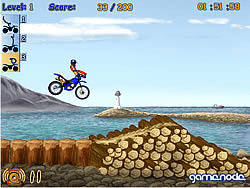 FMX Team is an adrenaline-pumping motocross stunt game that puts you in control of a team of fearless riders. Developed by IriySoft, this game offers a thrilling experience as you perform gravity-defying stunts and race against time. With its challenging levels and realistic physics, FMX Team is a must-play for motocross enthusiasts and fans of extreme sports gaming.
Game Controls
Mastering the controls in FMX Team is essential to execute breathtaking stunts and navigate the challenging tracks:
Arrow Keys: Use the arrow keys to control your motocross bike.

Up Arrow: Accelerate and move forward.
Down Arrow: Brake and reverse.
Left Arrow: Lean backward.
Right Arrow: Lean forward.

1-5 Number Keys: Press the number keys 1 to 5 to perform stunts in the air. Each key corresponds to a specific stunt, so experiment to create jaw-dropping combinations.
How to Play FMX Team?
Objective
The objective of FMX Team is to complete each level by performing a set number of stunts and earning a minimum score within the time limit. Stunts include flips, spins, and other impressive tricks that you must execute flawlessly.
Steps to Play
Select Your Rider: Start by choosing one of the available riders, each with their unique attributes in terms of speed, control, and stunt capabilities.
Choose a Level: Pick a level to tackle. The difficulty increases as you progress through the game, with more challenging stunts and obstacles.
Perform Stunts: As you race along the track, use the number keys 1 to 5 to perform stunts while in the air. The key is to land them cleanly without crashing.
Earn Points: Successfully executing stunts earns you points. You must reach the required score to pass the level.
Race Against Time: Each level has a time limit. Balance your need for speed with the necessity to perform stunts to complete the level on time.
Advance to the Next Level: If you meet the stunt and score requirements within the time limit, you can advance to the next level and continue your motocross adventure.
Tips and Tricks
Practice Makes Perfect: Master the timing and controls for each stunt. Practice is essential for achieving higher scores.
Plan Your Stunts: Plan your stunts carefully, especially when you need to meet specific score requirements. Combining different stunts can yield higher scores.
Balance Speed and Stunts: While speed is crucial, don't rush and risk crashing. Balance your need for speed with the necessity to perform stunts to complete levels successfully.
Game Developer
FMX Team was developed by IriySoft, a game development company known for creating engaging and challenging flash games. Their portfolio includes a variety of online games that cater to different genres and audiences.
Game Platforms
FMX Team is a browser-based flash game and is not available as a standalone mobile app on iOS or Android platforms. You can enjoy the game by playing it directly in your web browser on various online gaming websites. This accessibility allows you to experience the thrills of motocross stunts and racing on both iOS and Android devices without the need for specific app installations.
How to Play Unblocked
To play FMX Team unblocked, you can visit various online gaming websites that host flash games. Simply search for "FMX Team unblocked" in your preferred search engine, and you should find several websites where you can enjoy the game without restrictions.
Conclusion
FMX Team offers a thrilling motocross experience that combines high-speed racing with gravity-defying stunts. Whether you're a motocross enthusiast or simply seeking an adrenaline rush, this game delivers hours of entertainment. So, select your rider, rev up your bike, and get ready to conquer the challenging tracks and pull off jaw-dropping stunts in FMX Team.