Game Description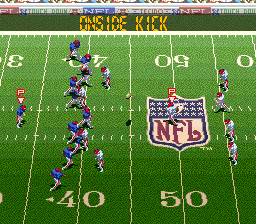 Tecmo Super Bowl III: Final Edition is a classic American football video game released for the Super Nintendo Entertainment System (SNES) in 1995. Developed and published by Tecmo, this game stands as an iconic entry in the Tecmo Super Bowl series. It offers an immersive football experience, complete with NFL teams, real player rosters, and exciting gameplay that continues to captivate fans of retro sports gaming.
Game Controls
Mastering the controls in Tecmo Super Bowl III is essential for achieving victory on the virtual gridiron:
SNES Controller (Original):

D-Pad: Move your players.
A Button: Choose plays on offense and initiate tackles on defense.
B Button: Snap the ball (offense) or switch players (defense).
Y Button: Pass the ball (offense) or perform diving tackles (defense).
X Button: Sprint (offense) or initiate diving tackles (defense).
How to Play Tecmo Super Bowl III – Final Edition (USA)?
Objective
The objective of Tecmo Super Bowl III is to lead your chosen NFL team to victory by outscoring your opponent. You'll control both the offense and defense, making strategic decisions and executing plays to achieve success.
Steps to Play
Select Your Team: Begin by choosing your favorite NFL team from the available options, each with its unique strengths and weaknesses.
Choose Your Play: On offense, select plays from your team's playbook. These plays vary in complexity and are designed to help you gain yardage or score touchdowns. On defense, you'll choose defensive formations and plays to thwart your opponent.
Snap the Ball: After selecting a play, snap the ball by pressing the B button. Control your quarterback, running back, or receivers on offense, or defenders on defense.
Execute Plays: On offense, pass the ball to wide receivers, run the ball, or perform special moves to gain yardage. On defense, tackle ball carriers and attempt to intercept passes.
Score Touchdowns: Your goal on offense is to cross the opponent's goal line for a touchdown, while on defense, your aim is to prevent the opposing team from reaching your end zone.
Manage the Clock: Pay attention to the game clock, and make strategic decisions to maximize your chances of winning.
Tips and Tricks
Study Your Playbook: Familiarize yourself with your team's playbook and choose plays that suit your playing style and exploit your opponent's weaknesses.
Timing Is Key: Accurate passes, well-timed tackles, and interceptions depend on your timing. Practice to improve your timing.
Know Your Team: Each NFL team in Tecmo Super Bowl III has unique strengths and star players. Utilize them strategically to gain an edge.
Game Developer
Tecmo Super Bowl III: Final Edition was developed and published by Tecmo, a renowned Japanese video game company known for its contributions to the gaming industry. Tecmo's Tecmo Super Bowl series became a hallmark in the realm of American football video games, with each installment receiving acclaim from gamers and critics.
Game Platforms
Tecmo Super Bowl III: Final Edition was originally released for the Super Nintendo Entertainment System (SNES) and is not available as a standalone mobile app on iOS or Android platforms. However, you can enjoy it on various platforms through emulators and retro gaming collections that may be compatible with both iOS and Android devices. These emulators and collections allow you to experience the classic gameplay of Tecmo Super Bowl III on your mobile device, bringing the nostalgia of this beloved game to the palm of your hand.
How to Play Unblocked
Playing Tecmo Super Bowl III unblocked can be achieved through emulation and online platforms:
Emulators: Download SNES emulators for your PC or mobile device and acquire a ROM of Tecmo Super Bowl III. Be sure to follow legal and ethical guidelines regarding emulation and ROM usage.
Online Platforms: Some websites offer browser-based emulation of SNES games, including Tecmo Super Bowl III. These platforms allow you to play classic games directly in your web browser.
Conclusion
Tecmo Super Bowl III: Final Edition continues to be a cherished classic for football enthusiasts and retro gaming aficionados. With its authentic NFL experience, strategic gameplay, and memorable moments, it remains a testament to the enduring appeal of sports gaming.
So, gather your digital playbook, call those plays, and lead your team to gridiron glory in Tecmo Super Bowl III. It's a journey through football history that continues to score touchdowns of nostalgia and enjoyment.